Check Your Hotel's Reviews With Google Alerts
By
All businesses have to be concerned with customer experience, but in the hospitality niche that is almost the entire focus. If someone has a negative review of your hotel, that review will spread on to other potential customers very quickly. Travelers are always incredibly cautious when it comes to their accommodations, wanting everything on a holiday to go perfectly. Likewise, business travelers don't want to worry about discomfort or problems interfering with their concentration when representing their company.
Reputation management is very important for hotels that want to stay on top of popular opinion. Whether they are thanking happy customers for choosing their hotel, trying to attract others with special deals offered in gratitude of being mentioned in a social post, or tackling issues that customers had during their stay, it should be used regularly. The best reputation management campaigns are monitored daily, and the staff viewing the comment or review strike fast.
Google Alerts For Reputation Management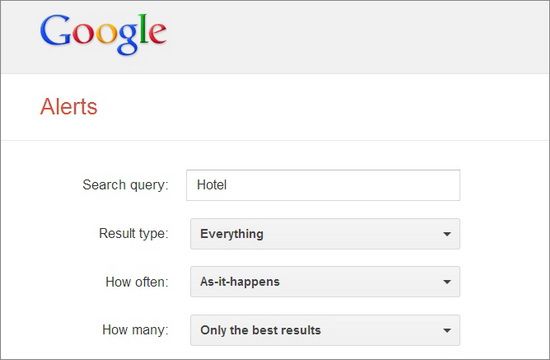 I have found many tools out there that monitor reputation, and most of them are good but costly. Which is why most businesses,, both big and small, are turning to Google Alerts in order to monitor their reputation for free. The savings add up quickly, and it is a more effective tool than even many of the paid ones.
Setting up the alerts is simple. Just go to the main page, sign into your Google account, and follow these steps:
1. In the search query box, put in the keyword(s) you wish to monitor. You can create multiple alerts, but they have to be done one at a time. So, for example, Brightly Hotel could be one search.
2. Select your result type, such as blogs, discussions, books or videos. Or you can have it bring in all results by selecting everything.
3. Tell it how often to send alerts. You can get both a weekly or daily digest, or else be alerted as things happen. So you will know immediately when someone mentions your hotel.
4. Decide how many results you want. These will either be only the best, or all results. Which means you will be alerted even if only vague mentions happen.
5. Choose the email address you want the alerts delivered to. The default will be the address attached to your Google account.
What To Do Once You Have The Results
As soon as you have your alerts set up, you can start using them in conjunction with other tools like Twitter to begin contacting customers. When a review has been left, you can reply to that review. If a fraud report shows up, address it. Any social media mentions can be commented on or reposted.
You will be showing your customers that you care about their concerns and opinions. Just be sure you respond to positive reviews as well as negative ones. Doing otherwise sends the wrong message.
Conclusion
Google Alerts is the perfect tool for reputation management, because it is free, easy to use and thorough. Which makes it simpler than ever to keep up with what people are saying, and to run a cost efficient engagement marketing campaign no matter what your budget.
Get started today, and start seeing the benefits!